A Broader Church
- The Economist, July 2, 2011
Fun in the woods with gay, tattooed and generally liberal folk
(Note – The Economist is a British publication, hence, the varied spelling of certain words. They also are of liberal leanings. This report on "Christians" meeting in the woods on the Summer Solstice is reminiscent of other pagan gatherings in the woods on other solstices. ". . . broad is the way that leads to destruction . . ." These are the words of the Lord Jesus in Matthew 7:13. In the photo below, what does a geodesic dome have to do with Christian worship?)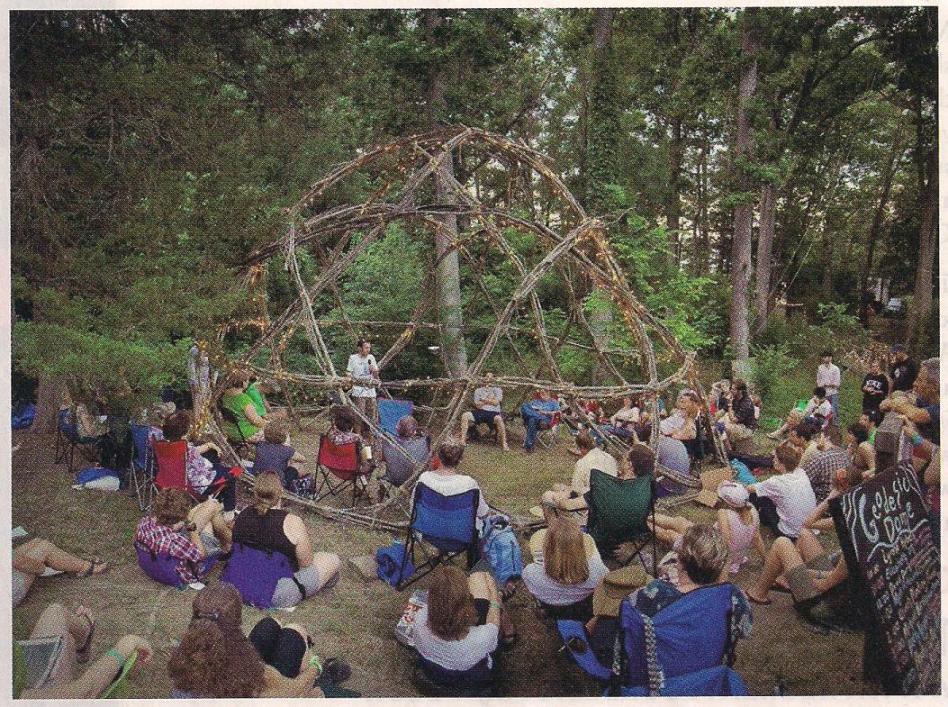 At least 25 Christian music festivals are held each summer in America, but they have never catered for theological liberals. Until this year, that is, when the Wild Goose Festival—named after a Celtic symbol for the Holy Spirit—kicked off on June 23rd on 72 wooded acres in eastern North Carolina, not so far from the intellectual hub of Raleigh-Durham.
The idea, seven years in the making, was based on Britain's Greenbelt Festival in Cheltenham, which draws 20,000 people a year. About 1,500 people came to the American version, which explicitly pitched its appeal to artists and musicians, nonconformists, post-Christians, non-Christians, disaffected evangelicals and a liberal evangelical subset known as the "emergent" church.
Instead of Bible studies, there were labyrinth walks. Instead of praise-and-worship music, there was hymn-singing in a beer garden and a bluegrass liturgy presided over by a tattooed female Lutheran minister. Visitors were greeted with buckets of Water in which to baptise themselves, and tubs of mud to remind them that "dust thou art". (In Britain, the mud is usually underfoot.) Lecture topics ranged from sex trafficking and social justice to authority in the church and interfaith relations. Visitors could learn from Tom Prasada-Rao, a singer, how to chant "Om" and "Hallelujah Hare Krishna", or hear Paul Fromberg, a pastor from San Francisco, talking about his 2005 wedding to another man. "God is changing the church through the bodies of gay men," Mr. Fromberg told a packed session on human sexuality. Also under discussion was "religious multiple belonging" in other words, belonging to a clutch of different faiths at once.
Several disillusioned evangelical leaders attended. One was Jay Bakker, son of Jim and Tammy Bakker of the defunct Praise-the-Lord-TV-network fame, who gave meandering talks on growing up fundamentalist. Frank Schaeffer, who has made a career out of criticising his evangelical parents Francis and Edith Schaeffer, called the Bible "Bronze-Age mythology and confessed he had a "conflicted ambivalence about abortion.
"We're a laboratory for justice, spirituality and art in the way of Jesus," explained Gareth Higgins, the festival director and a peace activist from Belfast who has worked with Greenbelt and now lives in North Carolina. He and other organisers managed, miraculously, to recruit 150 musicians and speakers, none of whom charged for their services. They hope that the emergent cohort will rise from the ashes of an evangelicalism ruined by right-wing politics. As 78-year-old Phyllis Tickle, author of several books on emergent Christianity, put it, "We're at the start of a 500-year upheaval in culture and the church.
Most evangelicals do not view the emergents so kindly. The few conservatives at the festival privately complained that the panels were stacked with liberals and that the issues dear to them, such as abortion, were neglected. Greenbelt has often met similar criticism in recent years. Mainline Protestants, however, seemed delighted by the festival, and may well latch on to the emergents to shore up their shrinking numbers. Buoyed by their success, Wild Goose's organisers are planning to repeat the festival next year in the same bucolic place.
BACK to Lesson Archive.